Pousadas de Portugal launch a unique wine with José Maria da Fonseca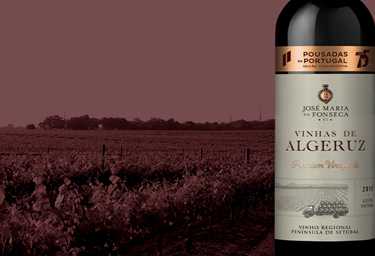 11 JUL 2017
​​Anniversaries unite two historical brands of Portugal
Pousadas de Portugal celebrate this year 75 years of history, the preservation of Portuguese nationality, and the protection of tangible and intangible heritage. To mark this occasion, Pousadas de Portugal invited the well-known wine producer José Maria da Fonseca to recreate a wine which could enhance the rich heritage of the national gastronomy. The result is the creation of a commemorative wine, the Vinhas de Algeruz Premium Vineyards 2015, which is meant to be a wine that goes perfectly with any gastronomic moment.
This unique and exclusive red wine from the Great Algeruz Vineyard, which was founded by the renowned oenologist Domingos Soares Franco and is located on the Setúbal Peninsula, was produced from the Syrah and Castelão grapes and was aged for six months in barrels of French and American oak to develop its seductive, luxuriant red tone and surprising fruity aroma with a slight hint of wood.
The Great Algeruz Vineyard in Palmela has belonged to José Maria da Fonseca since 1989 and is a landmark in the history of the emblematic Portuguese company. The vineyard stands out through its high potential, considering its size of 210 hectares (around 85 acres), and the array technical options it offers that poignantly represent the region's viticulture. José Maria da Fonseca oversees the quality and responsibility of grape production for most of its wines, which adds value and personality to them.
Having a velvety taste, caused by the smooth flavors of red fruits and vanilla, with strikingly present and well-incorporated tannins, it is considered to be the perfect accompaniment to the most classic dishes of the national cuisine. The delicacies confectioned with game meat or poultry and opulent regional cheeses harmonize with the Vineyards of Algeruz in an absolutely sublime way.
The wine is available from north to south in the restaurants of the Pousadas de Portugal – the largest Portuguese gastronomy networt. Recommending the special menu, which is available for a price of 75 euros (commemorative of its 75th anniversary) to celebrate more than seven decades of active service to the culture and tradition of the country.
Back